See on Scoop.it – Online learning: pros and cons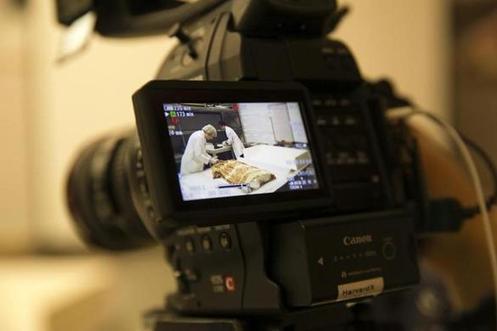 Almost three-quarters of students who enrolled in the first year of online classes at Harvard and MIT were from outside the United States, demonstrating the global reach and growing popularity of the free, open courses. Of the 840,000 students who registered for online classes in the 2012-2013 school year at the two Cambridge universities, just 28 percent were from the United States, a new study by Harvard and MIT researchers has found. About 13 percent were from India, followed by the United Kingdom, Brazil, Canada, and Spain.
Rasma's insight:
Global reach and popularity are all good and well, but what is happening to the hiring practices and course accreditation at American universities is not.
The studies I looked at in Iceland and the USA did not figure in costs for paying teachers to create courses. Is creating these courses paid work? Do professors get tenure credit for these courses? How does collective bargaining get affected? More and more universities are hiring adjuncts and cutting sections led by TAs.The research also shows that UNESCO's dream of OER (open educational resources) being shared by teachers and learners on a global basis is not tenable. Universities have to resort to creating their own OERs, as it is impossible online to find out if an OER has the right content and quality (hmm, sounds like why we have editors and publishers).
In massive open online courses the professor is not able to engage in discussion with the thousands of students enrolled at one time, and peer grading is often used. Who is guaranteeing the quality of learning? I think this is fine for courses taken on a hobby basis, for personal interest, or, for example, for teachers like myself wanting to expand our general knowledge in an area. But are these really the same as college courses?
I have just done some research on this topic, and it is close to my heart. I am myself taking an online degree, but one that was highly competitive to get enrolled in, with max. 11 students in each course. That is an ok model for online learning. Otherwise, the research shows that the worst possible educational environment is an online-only course. The next best is a face-to-face only course. The best model is a hybrid course that includes online and face-to-face elements. But – and here is the clincher – the online elements need to be using a technology that is integral to achieving the specific learning goals. Just posting lecture notes online or giving online tests is not making use of the true nature of online learning.
So what about these massive open online courses at Harvard and MIT, and other major universities? There is no denying the jaded fact that offering them has become part of a school's marketing profile. How the school is going to regard them is another matter. According to one study, 70% of professors teaching online courses did not think students should be given credit for them. Another study showed a 90% attrition rate in free, open online courses. Some researchers believe that is ok, since the nature of open, online courses is that students explore, get a taste, expand their horizons. So dropping out is part of the game.
At the same time, students are beginning to demand that attending these courses should give them clout and credit when applying for a degree. What I am afraid of is that international students are hoping to get more out of these courses than the courses, by their nature and design, and even their intent, can offer.
See on www.bostonglobe.com